Wild Boar Ragu with Tagliatelle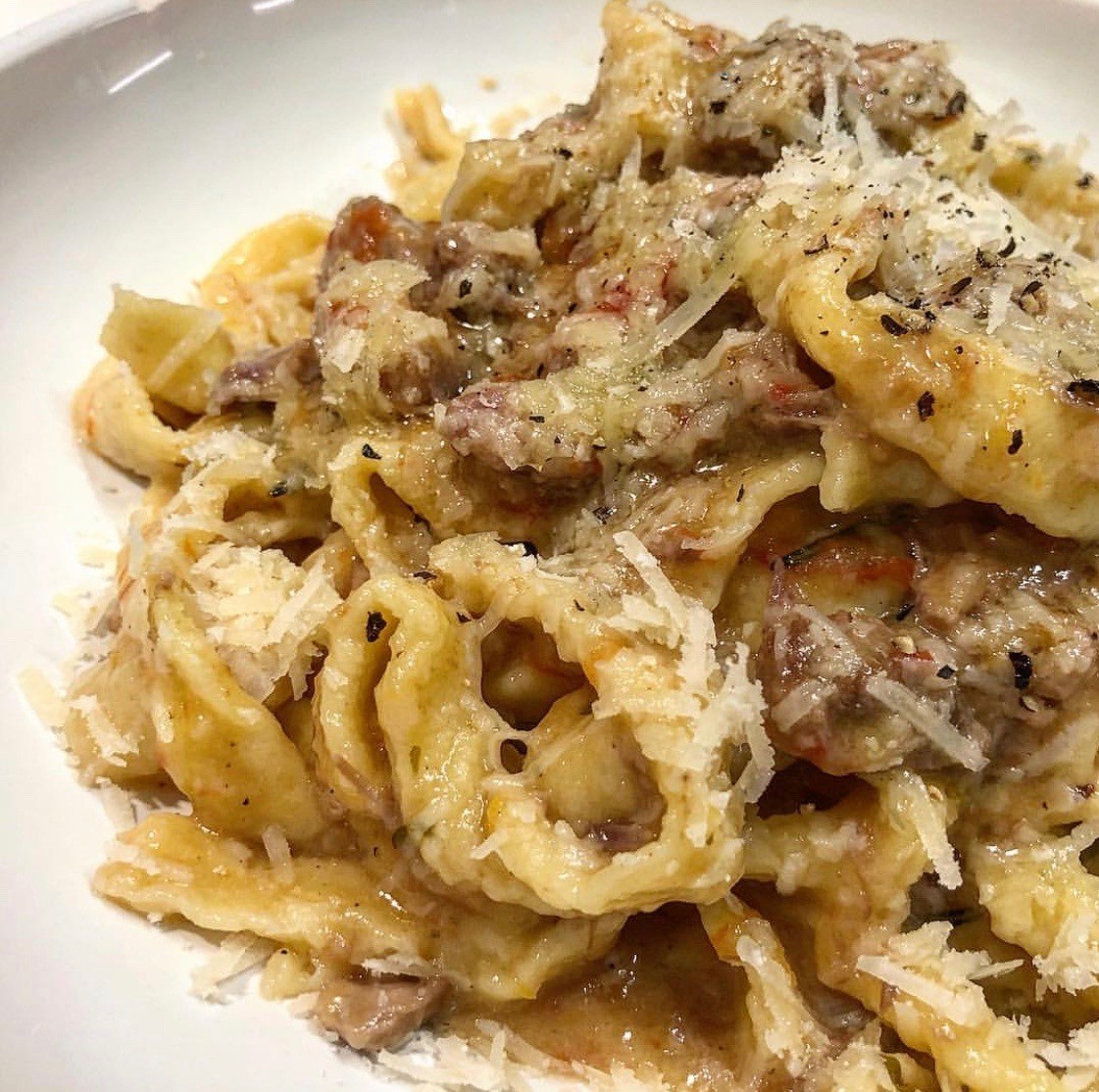 Ingredients
Marinade:
5 Cups of Good Italian White Wine
2/3 Cups of Olive Oil
6 Whole Garlic Cloves
2 Sprigs of Chopped Fresh Rosemary
1 Tsp of Fresh Ground Black Pepper
1 Tbsp of Kosher Salt
Ragu:
1 lb of Shogun Farms Wild Boar
1 Cup of  finely chopped Sweet Onion
1 Cup of finely chopped Carrot
1 Cup of finely chopped Celery
10-12 Cherry Tomatoes
2 cloves whole garlic
1/2 Tsp chili flakes
3/4 bottle of Good Italian White Wine
1 Tbsp of Fresh Rosemary
Salt
Fresh Ground Black Pepper
Olive Oil
All-Purpose flour for dredging
3/4  Lb of Fresh or Dried Tagliatelle
Grated Parmigiano Reggiano cheese
Directions
Marinade:
Combine all the ingredients for the marinade in a bowl and whisk until all incorporated. Chop boar butt or fatty boneless chops into small cubes and combine in an air-tight container or zip-lock bag and marinate in the refrigerator of at least 24 hours.
Preheat oven to 250 degrees
In a large Dutch oven, on medium-high heat, coat bottom pot with olive oil. Add garlic cloves and chili flakes, sauté for 3-4 minutes. Dredge marinated boar pieces in flour and add to oil, lightly brown and remove from Dutch oven and set aside on a plate. Heat more olive oil and add carrots, onion and celery. Sauté till translucent, add salt, pepper and rosemary. Add browned boar back into the Dutch oven, pour over wine, add tomatoes, cover and slow cook in the oven for 1 hour and 15 minutes. Remove from oven and set aside
In a large pot of boiling water, add 1 Tbsp of salt. Add pasta and cook for 4-5 minutes for fresh pasta. For dried pasta, follow cooking instructions on package. Remove and from water and set aside 2 cups of pasta water.
In a large sauté pan with the Ragu heated on medium high heat, add the cooked pasta and toss, slowly add some of the set aside  pasta water to the pasta mixture to loosen the Ragu and to bind the sauce to the pasta add some Parmigiano cheese and toss for 2-3 minutes. Plate, garnish with some more Parmigiano, and serve.
Serves 4-6
Cook Time: 1 hr 45 mins
Prep Time: 30 minutes
Marinate: Over-Night
Recipe Courtesy of Chef Adrian De Berardinis
https://shogunfarms.com/wp-content/uploads/2018/11/wild-boar-ragu.jpg
1114
1121
Bruce Quiroz
https://shogunfarms.com/wp-content/uploads/2021/08/shogun_header_logo-5.png
Bruce Quiroz
2018-11-14 09:09:55
2019-07-30 10:10:52
Wild Boar Ragu with Tagliatelle