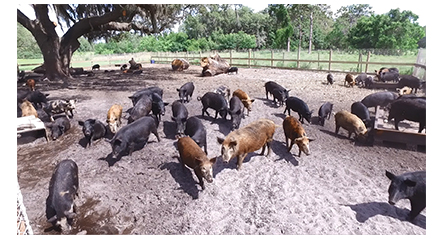 OUR HOGS ARE:
• Trapped & quarantined
• Deloused
• Dewormed
• Strict diet of locally grown produce
• No animal by-products in feed
• Monitorized and rotated
• Acorn finished meat options
• Hormone & steroid free
• Humane treatment, management and practices
• USDA slaughter and processed
Our Livestock
Why Our Hogs
Here on the farm, we believe in "happy, healthy hogs". Every aspect of our farm is carefully thought out: what breeds of hog we have, how we treat them, what they eat, etc. But most importantly, we believe that by treating these animals with respect and giving them the best life on the farm not only sets a higher standard for animal welfare but also produces a healthier, all-natural product for our customers.
Our Wild Hog offers you a unique and flavorful alternative to domestic pork providing you with the taste of the hunt without the effort.
The hogs are contained on our USDA state approved property where they are cared for daily by our trained and professional staff. Our goal is to maintain a stress-free outside environment shaded with trees and shelters for their comfort. We do not give them antibiotics, growth hormones or any other artificial supplements and allow them to grow as they normally should. Our hogs are fed clean and natural foods daily to ensure a balanced diet for growth and health.
Wild hog meat is leaner, darker and intensely more flavorful than farm-raised. Naturally, the flavor of the meat is dependent upon the diet of the animal. Our wild boar is all natural and on a free range diet of nuts, grass, and locally grown vegetables. You can expect a sweet and nutty taste that is cleaner than more fatty protein options.
We assure that any of our meat that enters the food system is free of antibiotics, added hormones, and anything else that would be harmful to you, the consumer.
Dedicated to producing the finest quality wild boar meat
Looking to buy quality wild boar?
At Shogun Farms, we believe in taking extra steps. It's how we stay one step ahead. And it's how we raise healthy hogs.