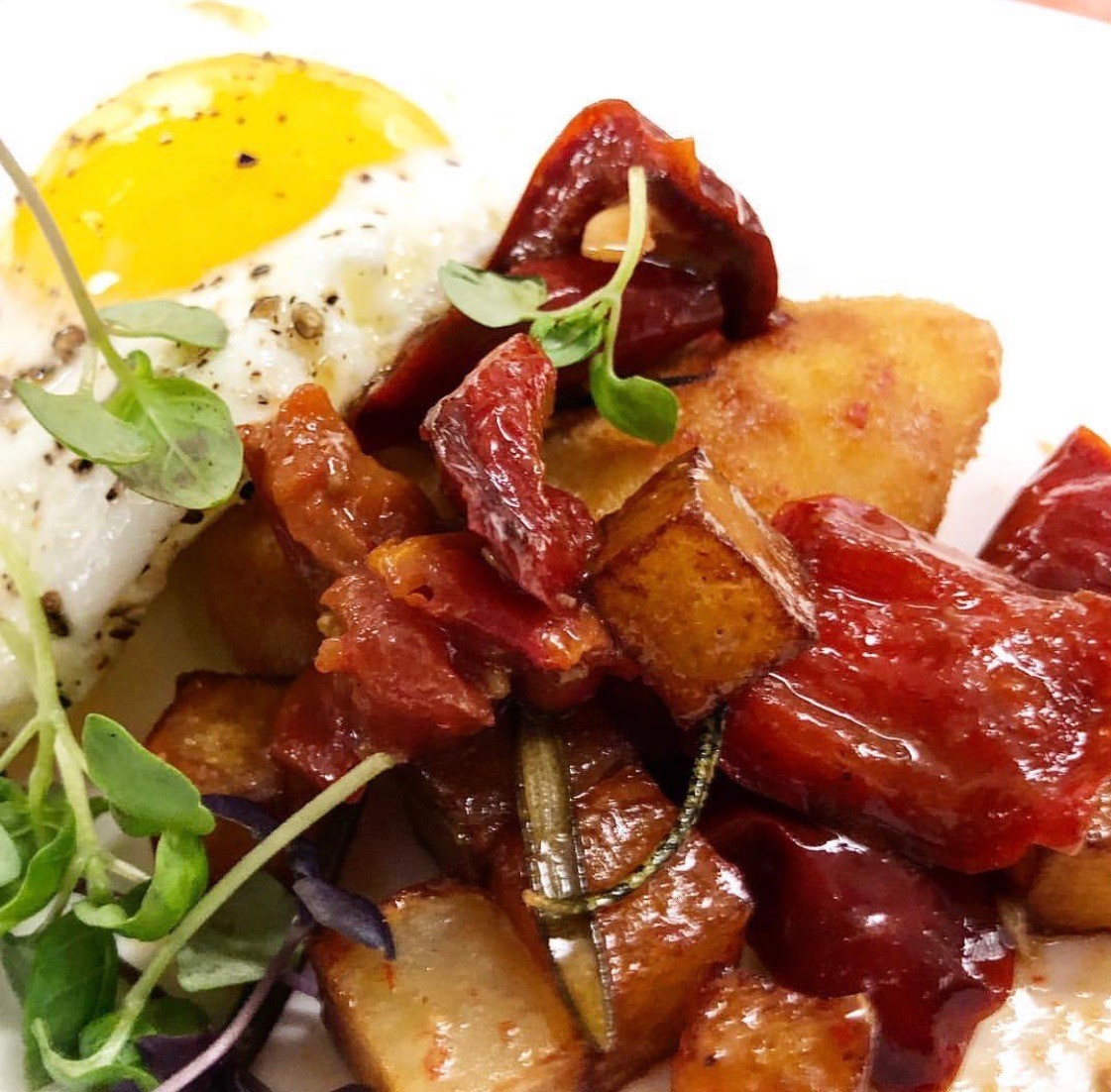 Wild Boar Schnitzel with Red Pepper & Potato Hash and Fried Egg
Ingredients
10 Shogun Farms Wild Boar loin medallions, tenderized
All-Purpose Flour
Plain Bread Crumbs
8 Large Eggs
3 Skin-On Chicken Thighs
2 LargeYukon Gold Potatoes peeled and cubed
3 Red Peppers de-seeded and cubed
3 Whole Garlic Cloves
2/3 cup Chicken Stock
2/3 White Wine
Rosemary
Olive Oil
Vegetable Oil
Salt
Pepper
Red Chili Flakes
Finely Chopped Italian Parsley
---
Directions
Red Pepper Potato Hash:
Preheat oven to 350. Spread red pepper cubes on a baking sheet, toss with olive oil and salt and cook in the oven for 30 minutes or until edges of bell pepper pieces are dark. Remove from oven and set aside.
In a large skillet on medium-high heat, coat bottom of it with olive oil. Salt and pepper chicken thighs. Add whole garlic cloves, an chili flakes. When garlic starts to turn golden, add thighs skin side down. Cook until brown and flip chicken over and do the same to the other side. Add 2 whole sprigs of rosemary, wine and chicken stock. When liquid has cooked down for 10 minutes, lower heat to low. Add 1 Tspn of salt, and simmer partially covered for 30 minutes.
 In a large frying pan, heat vegetable oil to 300 degrees. Fry potato cubes until golden brown. Remove from oil, strain and place on paper towel. Season with salt while hot.
Add pepper pieces and fried potatoes to the braised chicken, toss together, remove chicken thighs and enjoy them another time. Set aside hash off of heat. Keep warm covered.
Wild Boar Schnitzel:
Heat vegetable oil in a frying pan to 300 degrees. (In the same oil you fried the potatoes).
Beat 3 eggs in a bowl. On one plate, cover with flour for dredging. On a another cover with bread crumbs for coating.
Lightly Salt both sides of wild boar filets. Dredge filets in flour, dip in egg mixture, then coat in bread crumbs and carefully place in hot vegetable oil. Fry until golden brown, about 10 minutes each filet. Set aside and keep warm.
Assembly:
In a separate frying pan, in a little olive oil, fry eggs to desired yolk hardness. To assemble place 2 filets of wild boar filet on a plate, top with red pepper hash with some of its sauce, and top with one fried egg, and sprinkle with some chopped parsley for garnish and serve.
Serves 5
Cook Time: 1 hr 15 mins
Recipe Courtesy of Chef Adrian De Berardinis
https://shogunfarms.com/wp-content/uploads/2019/03/Schnitzel.jpg
1102
1121
Bruce Quiroz
https://shogunfarms.com/wp-content/uploads/2021/08/shogun_header_logo-5.png
Bruce Quiroz
2019-03-14 09:09:07
2019-07-30 09:38:49
Wild Boar Schnitzel