Grilled Jamaican Jerk Wild Boar with Mango Chutney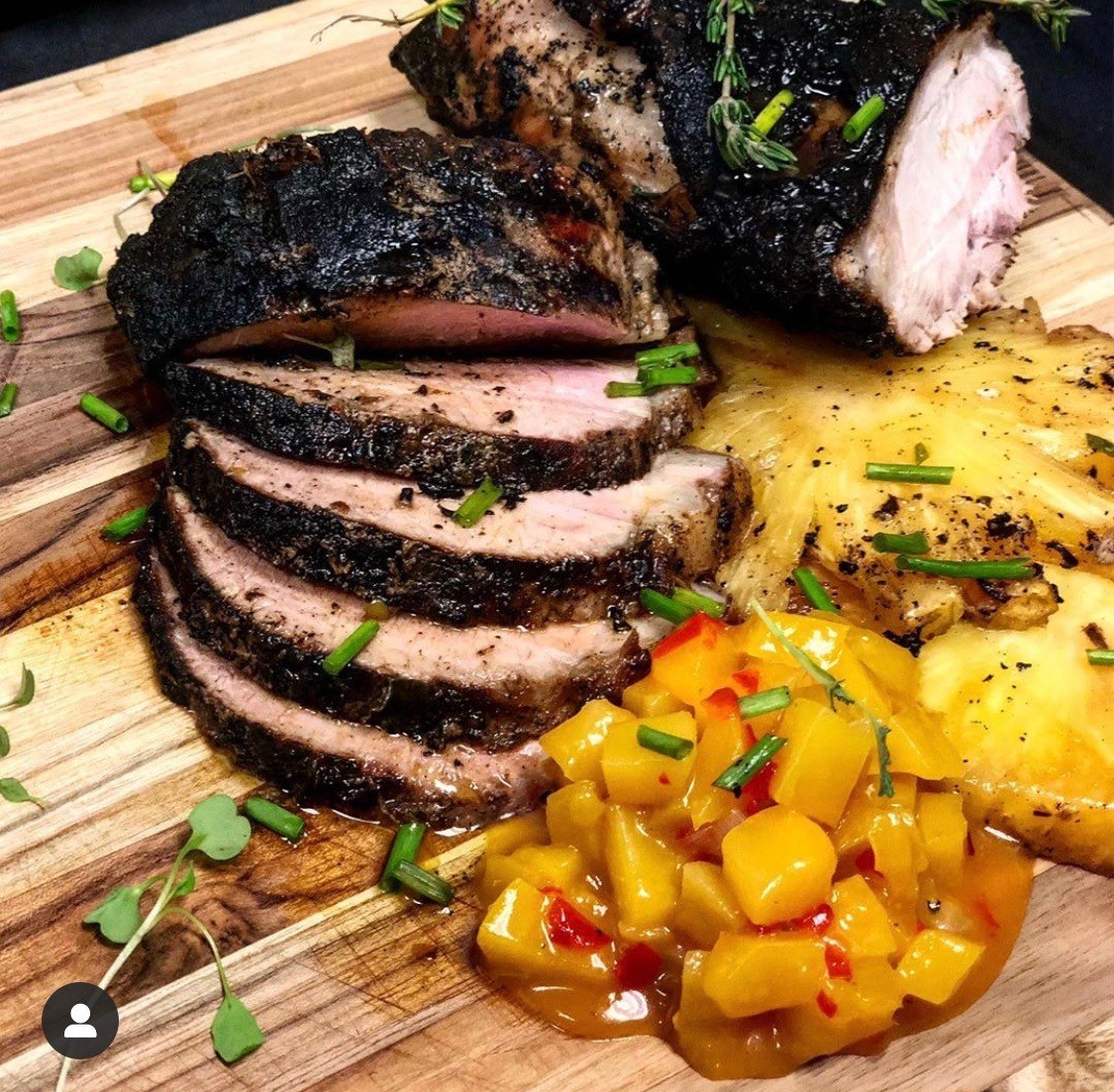 Ingredients
Marinade:
5 oz of Walkerswood Jamaican Jerk Seasoning
1/4 Cup of Vegetable Oil
1/4 Cup Lime Juice
1/2 Cup of Ginger Beer
1/3 Cup Cider or White Vinegar
1/4 Cup Brown Sugar
1 Tbsp of Dark Molasses
1/2 Tbsp of Salt
Mango Chutney:
1 Mango cut into small cubes
1/3 cup of finely chopped Red Bell Pepper
1/2 cup of finely chopped red onion
1 Tbsp of finely minced Fresh Ginger
1/2 Cup of Mango Preserve
1/3 cup of Cider Vinegar
1/4 Tsp of Red Chili Flakes
1/4 Salt
1 dash Scotch Bonnet Hot Sauce (optional)
1 Tbsp of Vegetable Oil
Wild Boar:
1 Shogun Farms Wild Boar Tenderloin
Chopped Chives
Fresh Thyme Leaves
---
Directions
Preheat oven to 375
Marinade:
Combine all the ingredients for the marinade in a bowl and whisk until all incorporated. Place loin in an airtight container or large zip-lock bag, pour in 3/4 of marinade, cover or close and store in the refrigerator for 12 hours or over-night. Set aside remaining marinade to baste while cooking on the grill.
Mango Chutney (can be made the day before or in advance):
In a small sauce pan on medium-high heat, add oil, chili flakes, and chopped onion and bell pepper. Sauté until onion is translucent. Add the mango, ginger and sauté until mango becomes soft on the edges, cooking about 10 mins. Add cider vinegar, mango preserve, and salt. Combine and stir mixture until it boils. For added heat add a dash of Scotch Bonnet Hot Sauce. Lower heat and simmer for 20-30 mins covered or until mixture becomes a thick consistency, stirring occasionally. Remove from heat and store in the refrigerator until ready to use.
Wild Boar:
On a medium-high flame on a pre-heated gas or electric grill, place the marinated loin of boar lengthwise to get nice grill-marks. Rotate every 10 minutes for 30-40 minutes to get a medium temperature (165 degrees), more time if desired medium well (40-45 mins). During the last rotation, baste with a brush or spoon with set aside marinade a few times to coat the loin and give a nice glossy finish. Close flame, set boar aside and let rest for 10-15 minutes. Slice, plate and garnish with chopped chives and thyme. Serve with Mango Chutney.
Serves 6-8
Prep Time: 30 minutes
Marinate: Over-night
Cook Time: 1 hr 15 mins
Recipe Courtesy of Chef Adrian De Berardinis
https://shogunfarms.com/wp-content/uploads/2019/07/Wild-Boar-Jerk.jpg
1103
1125
Bruce Quiroz
https://shogunfarms.com/wp-content/uploads/2021/08/shogun_header_logo-5.png
Bruce Quiroz
2019-02-14 09:29:21
2019-07-30 09:52:37
Grilled Jamaican Jerk Wild Boar with Mango Chutney