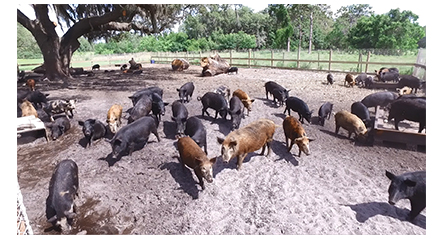 OUR HOGS ARE:
• Trapped & quarantined
• Deloused
• Dewormed
• Strict diet of locally grown produce
• No animal by-products in feed
• Monitorized and rotated
• Acorn finished meat options
• Hormone & steroid free
• Humane treatment, management and practices
• USDA slaughter and processed
Our Livestock
Going Beyond Our Hogs Basic Needs
We know that hogs need more than food and water. Little extras add up to make a big difference in their lives. We're raising them to higher standards by giving them what they want and need, with forward-thinking initiatives.
Shogun Farms produces the best pork that many of our customers have ever tasted. Our hogs live a stress free life in a natural and shaded environment, are handled humanely from birth to processing, and the quality of their meat shows it.
We produce premium pork for those who want the best meat at a reasonable price. Taste it for yourself, and enjoy!
Dedicated to raising the finest quality hogs
Looking to buy quality wild boar?
At Shogun Farms, we believe in taking extra steps. It's how we stay one step ahead. And it's how we raise healthy hogs.